Facial Treatments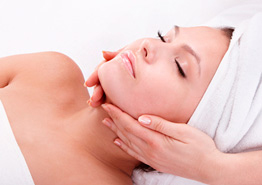 Classic technique and treatments that are proven to yield results. When necessary I will recommend custom blending and advanced treatments to promote skin's overall health
Body Treatments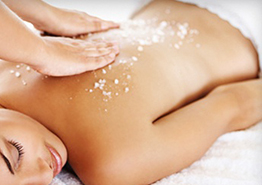 Back, Décolleté, Hands and Feet are often overlooked but long for care. Simple, relaxing treatments that promote stress reduction, softness, and health can be scheduled as singular treatments or all together. Visit the Restore Package tab to learn more
Waxing
Waxing makes us feel good, fresh and smooth to the touch. In each treatment I'll use a soothing hard wax meant for all body parts.
Facial waxing, Body waxing, Bikini waxing, Brazilian waxing, and more can be done as individual treatments or in conjunction with other services
01.
Signature PHacial
This facial is great for all skin types. We will address your topical concerns while you are being pampered. Your skin will feel balanced, hydrated and radiate your best you.
$89 or *3 for $65 each
02.
Custom Blend Facial
Designed by your esthetician and customized to concentrate on your concerns and promote healthy skin. Your treatment will consist of a thorough analysis and consultation. Then a blend of dermAstage Prescription Facial Ingredients will be applied in layers and in key areas for optimal results.
$95 to $125
03.
Special Event Facial
Fun and Fancy. This treatment gets you ready for the party or special event in your life. After prepping and cleansing the skin thoroughly a blend of essential ingredients including elastin and collagen extracts will tighten, tone, and plump the skin.
$89 or *3 for $65 each
04.
Brightening Facial
Formulated to treat superficial discoloration, dehydration and fine lines while improving the skin's overall appearance, tone, texture and glow.
$89 or *3 for $65 each
05.
Acne Treatment Facial
Addresses current breakouts and superficial pigmentation and scarring from past breakouts. This treatment is ideal in a sequential series and can be used as a prep prior to more advanced peels that will treat beyond superficial concerns.
$89 or *3 for $65 each
06.
Peels Treatment Series
We host a blend of peels at a variety of concentration and strength. Peel treatments and series of treatment are recommended following a complimentary 15minute consultation. This customization will better target your concerns and provide desired outcome.
Consultation

*Advanced payment in full required
Limited time offer
01.
Back Treatment
Is focused on one of the hardest areas to reach on the body. Like facials, a "back facial" is relaxing while professional treated. A deep cleanse, exfoliation, extractions (if needed) mask and hydrating moisturizer makes you feel great.
$89 or *3 for $65 each
02.
Neck and Décolleté Treatment
Focuses on this extremely vulnerable, accentuating area and is designed to use ingredients that preserve firmness, smoothness and reduce mild pigmentation irregularities.
$35
03.
Peppermint Scalp Treatment
Assist by balancing the pH levels of the scalp, increasing scalp circulation, stimulating hair follicles, and relieving inflammation with its cooling, relaxing effect.

Please know we do not offer showers after treatments and you should plan this treatment at a time when you will be going home after.
$30
04.
Herbology Body Retexturizer Hand and Foot Treatment
Is a rejuvenating treatment using Chinese herbs and alpha-hydroxyl acids to exfoliate and smooth the skin.
$20 each or $35 for both
01.
Camera Ready
is a full-face wax package that includes: eyebrows, hairline, side burn area, cheeks, lip area and chin. You'll be set for the perfect shot - Just add your smile!
$55
02.
Out on The Town
is a body wax package that addresses your intimate areas and includes: underarms, full leg and Brazilian. Be ready for anything.
$75
03.
Sun-Kissed
is a body package that gets you ready for any area that is touched by the warmth of the sun and includes: full arms, underarms, full legs, and bikini wax. Be smooth to the touch all year long.
$90
01.
Individual Waxing
Upper Lip – $9 and up
Lower Lip - $9 and up
Eyebrow – $15 and up
Chin – $12 and up
Nose – $10 and up
Side of Face – $25 and up
Half Arm – $30 and up
Full Arm – $49 and up
Underarm – $25 and up
Half Leg – $40 and up
Full Leg – $69 and up
Lower Back - $20 and up
Full Back – $69 and up
Nape – $15 and up
Stomach Strip - $15 and up
Abdomen – $29 and up
Chest – $59 and up
Bikini – $39 and up
Full Brazilian – $49 and Up
Savings on multiple wax services: Two services 10% savings, Three services 15% savings and Four services or more 20% savings - Listed wax packages do not apply.

Waxing services are listed for both women and men. Sorry no male Brazilians provided. Waxing services start with a quick consultation to determine desired out come and final price. Increased fees will apply only if additional time and consideration is required to meet the needs of excessive hair removal or over sensitive skin.

We ask that you do not exfoliate the day of your appointment. To ensure proper post care we also ask for that you do not exfoliate for a full 48 hours after your appointment. Limited sun exposure for the first 48 hours is encouraged and we recommend the use of sunscreen with a minimum SPF of 15. We encourage you to exfoliate regularly after a few days to limit any itching that may occur post wax. Please contact us if you experience any irritation. Adverse reactions may require you to seek medical attention.
Click here for waxing consent
Click here for
pre/post instructions
Phone: (760) 688-6035

Email: PHacials@gmail.com Shared Studio located in
alicia's aesthetic & body studios
address:
2725 jefferson st.
suite 104
carlsbad, CA 92008